Towing Service in Lockport, New York
No one likes to be caught in an unlikely and unlucky circumstance involving vehicles. Whether it be getting into an accident or bursting a tire, it is never an easy task to get out of vehicular hassles. This is why a car or truck towing service, such as Beauman's Towing, is important. No, it's not just that time when you get towed for wrongful parking---towing can be helpful to you too.
---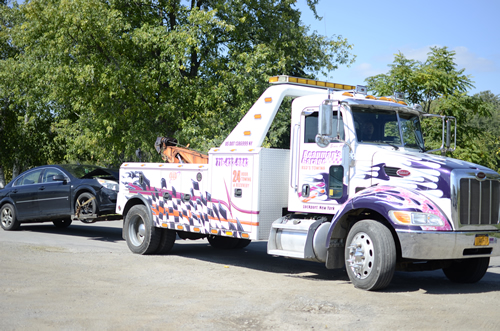 What is a towing service? As the name implies, a towing service is a service for moving your car from one place to another without you having to drive it. These services are useful for many different scenarios such as:
Car breaking down
Vehicular accident (especially with substantial damage involved)
When you have a flat tire and you don't have a spare
When you lock your keys in your car and your duplicate is far from reach
When your car battery dies and you need to leave your car
---
Beauman's Towing Services:
What kinds of vehicles can be towed? Most towing service companies are not equipped to handle vehicles of various sizes and builds----trucks, RVs, ATVs, SUVs, motorcycles, even Heavy Equipment and Trucks. Does a towing service company offer other services than just moving the vehicle? Aside from moving your vehicle from the scene of an accident (or whichever place your car will be picked up from) to the repair shop or junkyard, some companies also offer add-ons such as Roadside assistance, Vehicle storage, and Auto repair. Do these companies have similar prices? Service rates from different companies are fairly similar. The difference in pricing often varies depending on the following factors, such as the weight of the vehicle, type and size of the vehicle, distance to be travelled, and if your vehicle needs additional services.
What do I need to look for in a reliable towing service company?
Since it's your car that will be towed and handled, you don't just entrust it to anyone. Finding a reliable towing service is important. That being said, it is helpful to have a handful of numbers with you in case you need them later. Here are a few things you might want to consider when choosing a towing service company:
Are they legitimate? (Business permits, registered with local authorities, insured, etc.)
Do they have the right type of equipment for the job?
Do they have employees that are qualified and licensed?
Responds to emergency calls 24/7?
Highly recommended by family, friends or people you trust?
Can they offer services more than towing (auto or truck repair)
Gives reasonable pricing, complete with an explanation should you ask for it?
Courteous staff?
If you are ever in need of towing service in Lockport, New York, Beauman's Garage offers upfront, reliable, and courteous service, as well as auto and heavy truck  repair. Have your needs cared for with just one call. 716-433-9843